PROFESSOR POLINA STEPPENSKI
Head of the Department of TKM and Immunotherapy in Children and Adults at Hadassah Hospital. Member of the European Committee for TKM in non-malignant diseases.
Professor Polina Stepenski is a paediatrician, a leading haemato-oncologist, and one of the rarest specialists in the world for the treatment of rare (orphan) diseases in children through stem cell transplantation, mainly through bone marrow transplantation (BMT). By early 2018, more than 3,500 bone marrow transplants had been performed at Hadassah Medical Centre under Professor Stepenski's leadership, more than 1,200 of them in children.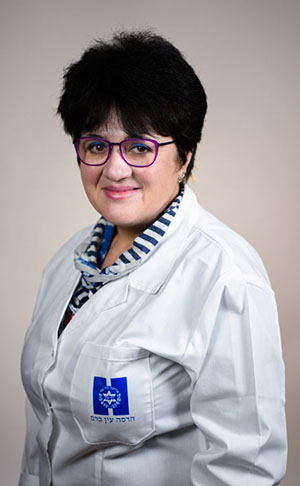 EDUCATION, TRAINING, AND ADVANCED COURSES
Polina Stepenski received her medical education at the Faculty of Medicine at the Hebrew University in Jerusalem, Israel. Upon completion of her studies, she completed her internship and residency at the pediatrics department of Hadassah Children's Hospital at Mount Scopus campus, followed by specialization in TCM at the University of Minnesota (USA) and Great Ormond Street Children's Hospital (London, UK). While studying abroad, she mastered today's most advanced TCM techniques.
OTHER AREAS OF WORK
Prof. Stepensky teaches at the Hebrew University School of Medicine, is engaged in intensive research work and has written and co-authored over 90 scientific papers.
MEMBERSHIP IN PROFESSIONAL SOCIETIES:
Israeli Hemato-oncology Association;
European TCM Society;
American Community of TCM;
European Immunology Community;
European Community of Haematologists.
PROFESSIONAL ACTIVITY AWARDS:
Research Award from the Hebrew University (Jerusalem, Israel);
European Immunological Society Award for Immunological Research
Israeli Television Channel 9 Man of the Year Honorary Award (2018).
PROFESSOR PAULINE STEPENSKY'S RESEARCH ACTIVITIES AND PUBLICATIONS
Video- Prof. Stepensky saves the lives of children from Russia
Prof. Stepensky reviews CAR-T abstracts at ASH (American Society of Hematology) 2020